Holiday shopping is my favorite type of shopping. I love buying thoughtful gifts for my family and friends. I usually do a combination of online and in store shopping. This year, I'm doing a bit more online because I don't have the patience to stand in line outside the store as they let just a certain number of people in at a time to shop. One thing I'm doing more of this year is choosing to Shop QVC for the Holidays.
"This post is sponsored by Sivan Social. All comments and opinions are my own."
I've been shopping QVC for years, especially for holiday decor and gifts. I've discovered some of my favorite new-to-me brands on QVC and I'm excited to share them with you today.
Gifts for Women
I live in Florida so I only need a winter jacket for about 2-3 weeks a year. The problem was, I hadn't owned one in years. I saw Cuddl Duds Sherpa Wrap Front Jacket and knew I needed it. Mine is a few years old so it is slightly different than this one but I LOVE it. I'm excited that it might get cold enough for me to wear it a few days later this week! If you are looking for a cute, comfortable, and warm jacket this is it!
The other fashion brand that has become a favorite is Anybody. I have a few of their tops, and want some bottoms! Anybody says they are loungewear that lets you relax anytime, anywhere, and that statement is so true. Anybody is good looking comfort clothes for hanging out at home or out running errands, Anybody is perfect, especially for busy moms. I have the Anybody Cozy Knit Rib Swing Top and the Anybody Cozy Knit printed Cargo Wide Leg Pant on my Christmas wish list!
Shop QVC for Gifts for Teens
Even here in sunny Florida, UGG boots are all the rage. These Koolaburra by UGG Suede Bow Short Boots would be a very welcomed gift for any teen girl.
Everyone needs a reliable Power Bank and HALO is the brand to get. This HALO 15,000mAh Power Bank with Apple, Micro, and USB-C cables is the perfect gift for anyone who owns a smartphone. This can charge up to 3 devices simultaneously! Never be caught with a dead battery again. It's 5.5″ x 2.85″ x .88″ so it fits easily in a purse or pocket and it only weighs 0.739 lbs making it great or travel or everyday use.
Family Gifts
If you can't gather in person with family this holiday season, do the next best thing, gather virtually. The set of 2 Facebook Portal 10.1″ Smart Display allows to you "be there" when you can't be there. Amazon Alexa is built in as well so you get the bonus of having Portal also be your Alexa voice control unit for playing music, controlling your smart home, adding items to your shopping list and more. This set of 2 Portals means you can keep one for yourself and send one to the loved one you want to see more often.
Here is another gift for the whole family to enjoy. The ChargeHub X7 Signature Charging Station has 7 USB ports to allow the whole family to charge their devices as needed. no more fighting over the charging cable!
Here is a game the whole family can play, Bounce Battle! Bounce Battle is the easy to learn and quick to play battle game of strategy, skill, and chance! Choose your color, pick your battle, and bounce ping pong balls into the game cube to win.
Why I Shop QVC for the Holidays
In addition to great prices and an amazing selection of gifts, I shop QVC for the Holidays because they often offer special deals like free shipping or 5 easy pays which allows you to pay over time with no interest, which can come in handy while holiday shopping.
In case you didn't know, you don't HAVE to watch QVC to order from QVC. Yes, there are limited time offers and specials which are easiest to find out about while watching TV, but you can shop QVC.com anytime. I hope you will Shop QVC for the Holidays this year.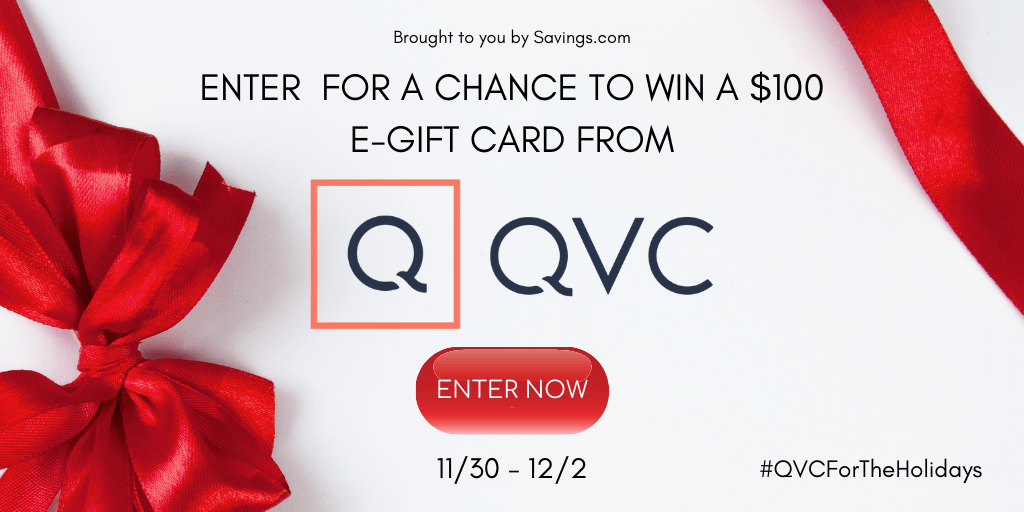 You can enter to win a $100 QVC E-Gift Card! The giveaway starts on Monday, November 30th at 12:00 AM PT and ends on Wednesday, December 2nd at 11:59 PM PT so go enter now! Good Luck!